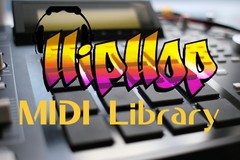 Subaqueous has announced the release of a free Hip Hop Midi Library, a collection of 65 different drum patterns including West Coast hip Hop, Dirty South, and more.
I have sat in the studio for a month making yet another MIDI library for you all. This is a collection of MIDI drum patterns for hip hop from 80-100 bpm. It's made so you can just drag and drop the MIDI files into Live, or any DAW, and easily start making hip hop beats. The Easy Drag and Drop nature will have you righting beats and producing in your sessions even faster. It's also a supper handy tool with live performance.
This library includes a Live set with all of the clips layed out to preview as well as a simple hip hop Drum Rack for testing out the sounds. Live 8 and Live 9 supported.
The library is a free download for newsletter subscribers.
More information: Subaqueous / Hip Hop Midi Library