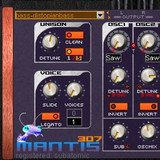 Subatomic Labs has released Mantis307, a fat, mean, and rubbery VST synth that was influenced by the similarly raucous sonic stylings of classic analog synths like the tb303, mc202, nord3, OSCar and juno60.
Features killer unison and distortion, as well as constant time slide (portamento done right!). In addition, 2 oscillators + subosc per voice, sync, mono and polyphonic modes, keyboard tracking, and 3 envelope curve types. (and much much more!). And with a super low CPU footprint that lets you layer many mantis sounds without breaking a sweat.

Mantis307 was created for raw acidic sound design! ::: Mantis really shines when used like a tb303, as a bassline monosynth. To get you started, there are several teebee presets to get the aciiid juices flowing. But don't be fooled, Mantis's range of sounds include much much more than just 303 and basses, hit the audio samples below to see.
Mantis307 is available to purchase as a VST instrument plug-in for Windows PC, priced at $20 USD. A fully functional free version is available to download (has a nagscreen).
More information: Subatomic Labs / Mantis307