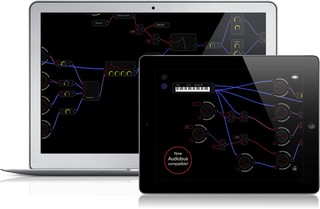 Subatomic Software has updated the Audulus modular music processing app for Mac and iPad to version 2.0.
With Audulus, you can build synthesizers, design new sounds, or process audio. All with low latency real-time processing suitable for live performance. Audulus's user interface is clean, simple, and easy to learn, allowing you to focus on sound.
Changes in Audulus v2.0
The Audulus Store. To open the store, tap the Store button in the Patch Browser (left side).
Math Expression node (Math -> Expr). Enter textual math expressions, like "2*x + y +z". Available as an in-app purchase, this node has a variety of uses, including: unit conversion, control-signal mapping, wave-shaping or building custom oscillators. It can also be used when doing math with individual nodes is too cumbersome.
Timing mode (the little stopwatch button below the lock mode button). This shows timings for all the nodes so you can optimize your patch. This is available as an in-app purchase.
The Oscillator node now has an amplitude input. If the amplitude is zero, the oscillator takes up much less CPU. Synth patches will see a big performance improvement from driving the Osc amplitude with the ADSR.
Significant improvement in loading times. Indicate progress while loading.
No waiting to close a patch. Patches are saved in the background.
Audio engine optimizations. The audio engine now takes various shortcuts when values aren't changing.
Improved responsiveness of the on-screen keyboard.
Bug fixes.
Audulus is available to purchase for Mac and iPad for $29.99 USD and $14.99 USD respectively.
More information: Audulus