Submersible Music has announced the release of DrumKit Pack I and RocKit Pack I, two new KitPack Bundles.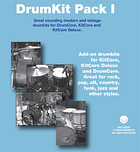 DrumKit Pack I features vintage, jazzy warm to bright, poppy punchy drumkits for KitCore and KitCore Deluxe.
We understand the need for endless drum sounds. No matter how much you tweak, it just wont work, if the originals weak. The answer? More selection! This KitPack serves-up some great drum sounds to serve your quest for the perfect tone for your tune.
DrumKit Pack I features
The Red Kit — A custom-built, red acrylic Pork Pie kit with a great selection of Zildjian cymbals recorded by Gary "GT" Thompson. Great for rock, pop and more!
NM Pacific Kit (Both Wet and Dry Versions) — This is a very cool Pacific kit (http://www.pacificdrums.com/) which includes 18X22 Kick, 5X14 Snare, 8X12 and 12X14 Toms plus 18″ Sabian AA Fast Crash, 19″ Zildjian A Custom Crash, 20″ Zildjian Pre Aged K Lite Ride cymbals and 14″ Zildjian New Beat hi-hats.
LoFi Love Kit — That thunky, thwacky, garage-retro tone that screams party time right at you.
GT Ldwg Sparkle (Five Variations) — This is a new Ludwig Sparkle kit recorded, tuned and tweaked for rock styles, pop or modern country. This same kit with its variations are found in DrumCore 3.
40's Vintage Kit — This is a KitPack that includes a lovingly multi-sampled Slingerland Radio King drumkit from the 1940's. This drumkit is from the Donn Bennett collection (www.bennettdrums.com) and features calfskin heads and a full suite of vintage cymbals as well. The kit was sampled with stick, brushes and mallets and includes some example MIDI files designed primarily to demo the drumkit sounds (not full GrooveSets). This is a perfect kit for jazz, folk, country, softer pop and anywhere you want an organic, warm drum tone. Drum sizes include: 14×24 Kick, 9×13 rack tom, 16×16 floor tom and 7×14 snare Vintage cymbals (from the 40's and 50's) include an 18 Zildjian Ride 18 Zildjian Ride 2, 14 Zildjian Crash, 14 Zildjian Crash 2, 13 Zildjian HH and 8 Zildjian Splash.
RocKit Pack I features blazing rock beats, fills and variations plus drumkits for KitCore and KitCore Deluxe.
Sometimes you just need to turn-up the volume to 11 and grind! These beats are perfect for that riff in your head that only needs the perfect groove to come out. Load this new KitPack into KitCore or KitCore Deluxe and get the extra juice you need to ignite a flurry of new musical ideas.
RocKit Pack I features
Stephen Perkins KitPack 7 new drumkits and groovesets — An enticing collection of tribal-rocky-funky-metal-jazzy grooves and sounds from Stephen Perkins (Janes Addiction, Porno for Pyros). It includes these MIDI GrooveSets, each with their own drumkit: Dinner and a Movie, Dustbowl, Fingertips, Jugular, Mind Over Matter, Rest vs. Rust, Speeding in a School Zone The main drumkit is Stephen's eight-piece maple kit with double kick drums, alternate snares (including maple with wood rims, classic brass, vintage pieces and a Scottish marching snare), plus bongos and a huge assortment of cymbals.
Matt Cameron KitPack 15 new drumkits and 13 new groovesets — A Seattle legend, Matt is considered one of the best rock drummers on the scene today. It has these GrooveSets: Back Six, Boris, Flower 1, MC Rock1, Nile, Nile 2 & Nile 3, Rock Hall, Sevens, Six Underground, Skiffle Grunge, Threes, Trojan 1. This KitPack delivers a dozen great acoustic kits with various snare and cymbal configurations and mixes.
John Tempesta KitPacks I & II 9 new drumkits and 13 new groovesets — John's kit is all about sounds that work well with heavy metal and aggressive rock tunes. Slashing cymbals, John's signature "Stealth Snare" from TAMA, and all the pieces of his raging double-kick kit are included. It includes five drumkits to work with these GrooveSets: KitPack I: Bronx, China Town, General Patton, Grappa, Green Machine, Julio, Lost and Soho – KitPack II: Freud, Maclay, 007, Eastside and Fort Apache.
Note: MC Rock1 and Maclay are included (via disc or download) with KitCore Deluxe.
DrumKit Pack I and RocKit Pack I are available as a download for $99 USD, and on disc for $125 USD.
More information: Submersible Music