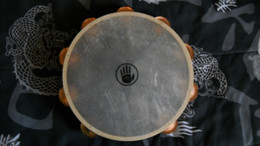 Subtersonic Music has released a free Black Swamp Tambourine sample library.
This is for all the people who have graciously provided many great, free samples over the years. I have made my own sample pack featuring a Black Swamp tambourine.

Remember seeing that band where the singer was haphazardly bashing on their hip a plastic circle with thin steel jingles? This is my response to that and my vision of what a tambourine should really sound like. You may be asking, "Tambourine? That's lame, why bother?" Well, I hope to show with these samples the nuance and charm of this instrument that is underestimated. Use it for orchestral scoring, ethnic/ world beats, or to spice up your rhythm tracks with a new sound.
Black Swamp Tambourine features
Model TD2, 10" diameter, ash body, calf skin head, hand hammered Phosphor bronze zills.
Articulations at several velocity levels: Dry, shake roll, shell pound, standard hit, thumb roll, staccato thumb roll, zill spin, zill click, head slap, doum and tek.
The samples are in .wav format. I have included a mapping for the sampler ShortCircuit as well.
This sample pack is available to download at no cost.
More information: Subtersonic