Sugar Audio has released version 2.0 of Oscarizor, a multi analyzer audio effect plugin for Windows and Mac.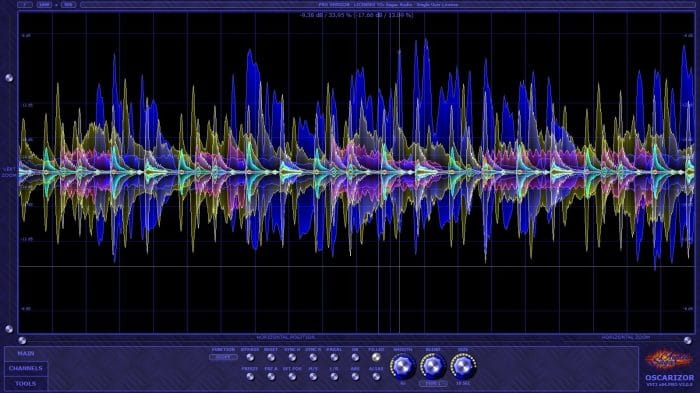 Welcome to the world of Oscarizor Pro. Parallel waveform and spectrum comparison using side-chaining and 16 send/receive channels (up to 10 channels parallel) is the power of Oscarizor Pro. Use DAW host synchronization to exacly compare waveforms. Nearly an unlimited count of instances inside your DAW projects is allowed. Waveforms and spectrums are displayed with wonderful filled/lined graphics using blending, blending types, smoothing and antialiasing. Choose from common colors to optimze your dB or amplitude scaled view.
Changes in Oscarizor v2.0
Spectrum analyzer – Oscarizor is now a multi analyzer (Free/Pro).
Multi channel support for spectrum analyzer (Pro).
Intuitive and free mouse spectrum scaling (Free/Pro).
Multi channel correlation meter (Pro).
Automatic instrument tuner (Pro).
FFT size, window (7 functions) and average controls (Pro).
Spectrum tilt/slope knob (Free/Pro).
Initial autosync to receives (Pro).
Resync to receives button (Pro).
M/S (mid/side) view (Pro).
Freeze all (global freeze) button (Pro).
Oscilloscope maximum time size enhanced to 30 seconds (@ 44kHz SR) (Free/Pro).
Win/Mac AAX support added (ProTools 12+) (Free/Pro).
Mac 32 bit support added (Free/Pro).
Bugfixes.
Oscarizer Pro for Windows and Mac (VST/AU/AAX) costs 24.95 EUR. A free limited version is available for download.
More information: Sugar Audio / Oscarizor