Sugar Audio has released Oscarizor 3.0, an updated version of the 2D/3D multi channel spectrum analyzer audio plugin for Windows and Mac.
The new version introduces 2D/3D waterfall models, a highly customizable 3D Engine 2.0 using lighting, model sizing, and much more.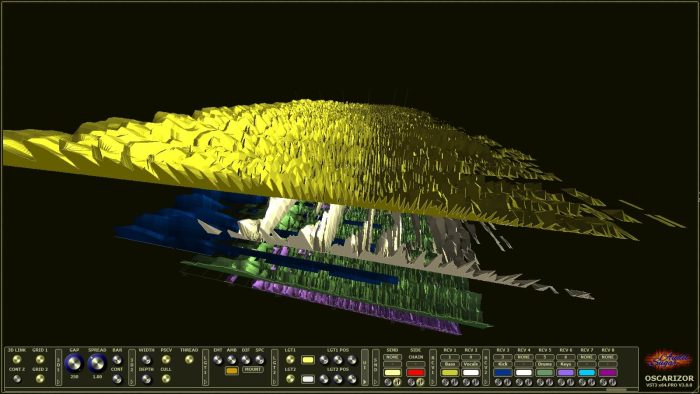 Parallel waveform, spectrum & stereo field comparison in 2D and 3D using side-chaining and 255 send/receive channels (up to 10 channels parallel) is the power of Oscarizor Pro – especially the multi channel spectrum analyzer in VST / VST3 / AU and AAX variants.
Changes in Oscarizor 3.0
New function: 2D/3D multi channel waterfall (Pro).
Mountain, bars, cylinder and tube 3D waterfall models (Pro).
SA 3D Engine 2.0: Highly optimized and customizable 3D renderer (Pro).
Two independent light sources with free positioning and coloring for all 3D analyzers (Pro).
Emissive, ambient, diffuse and specular 3D light controls (Pro).
Extended 3D parameters with model width, depth, back face culling and perspective correction (Pro).
3D spread control to strech the model (Pro).
Dynamic control menu splitter (Free/Pro).
Thicker 2D signal contours (Free/Pro).
Performance & memory optimizations.
Bugfixes.
Oscarizor Pro is available for purchase for 44.95 EUR / $49.95 USD (incl.VAT). The update is free for existing customers.
A free version with limited features is available for download.
More information: Sugar Audio