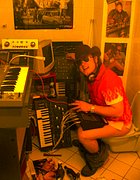 Sugar Bytes has announced the Crazy Studiopic Competition.
Send us your craziest studio pic and win some phantastic prizes from the Sugar Bytes product line! And that´s not all: Each post will win a 20% discount code for the Sugar Bytes shop. Do it on your own, with your band or your posse, just let it flow! But you have to do something special since boring pics and double posts will definately be ignored!
The deadline is November 1st, 2008.
The best 10 pictures will go on the Sugar Bytes website and prizes to be won include the Sugar Bundle (3x) and individual Sugar Bytes products.
Visit Sugar Bytes for more information.