Sunhouse has announced that after raising more than $94k in a successful Kickstarter campaign last August, it has begun shipping Sensory Percussion to campaign backers and new customers around the world. Sensory Percussion is available now to purchase on the Sunhouse website.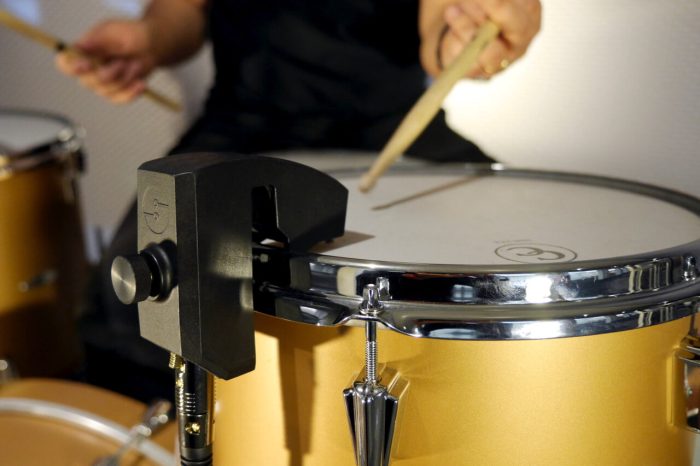 "In the age of electronically produced music, drumming is often reduced to simple, static sounds," said Sunhouse co-founder Tlacael Esparza. "Sunhouse reinvigorates acoustic artforms by translating all the human nuances of a live performance to electronic sound through our powerful software and specialized sensors. It bridges the artforms of acoustic drumming and music production, empowering drummers to combine the sonic possibilities of electronic sound with the unmatched potential of acoustic performance."

With Sensory Percussion, drummers can now control electronic sounds in real time with their drumsticks, rather than twiddle knobs and push buttons. The specialized sensors are the most visible part of the technology, but the software is the real star of Sensory Percussion. Developed by drummers for drummers over an intensive two years of R&D, Sensory Percussion's creators harnessed their knowledge of music, stage performance, music information retrieval, audio software engineering, mechanical engineering, and machine learning to develop the easy-to-use, intuitively controlled software.

Unlike existing electronic drum trigger systems which turn your drum into static sounds, Sensory Percussion's sensors allow its powerful software to understand where and how drummers hit their drum, following their playing in real time. It sonically maps different parts of the drum so drummers can intuitively control anything from samples and synthesizers to digital audio effects, and even lighting. It also allows the musician to play "between" sounds and to control continuous effects based on where and how the drum is hit, allowing creative possibilities that are orders of magnitude beyond any competing product.

"Sensory Percussion is the freshest, most creative technology to hit electronic drumming in the last decade. With one drum I can now do what I can do with an entire kit." – Grammy-winning producer and drummer for Dr. Dre, Herbie Hancock, and Stevie Wonder
Sensory Percussion is available now to buy on the Sunhouse website and ships globally:
Starter kit (software and 1 sensor): $700 USD.
Duo (software and 2 sensors): $1,025 USD.
Trio (software and 3 sensors: $1,315 USD.
Complete Kit (software and 4 sensors): $1,575 USD.
More information: Sensory Percussion