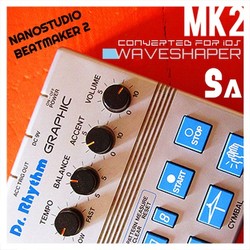 Sunsine Audio has announced it has converted Waveshaper's Plasticid MkII sample library for use with iOS.
The Boss DR-110 is a cute little drum machine from the early 80s, the last analogue one made by Roland. 
The overall sound is very reminiscent to the much praised TR-808 and TR-606. The DR-110 will give you that classic, sought-after sound but with some slight difference and much character. 

Plasticid MkII takes this sample pack one step further, with 120 new samples gathered in 18 kits. This new version aims at coloration and expands the sonic palette of the DR-110, processing it using vintage hardware to shape it up nicely. The cymbals are spitting, the bassdrum is kicking, and the snare and claps tones ranging from dark to bright make each kit acting like a rebirth for the mighty DR-110! Great care has been taken about recording a semi open hat sample for even more expression.

Converted and exclusively available for iOS use (Nanostudio and Beatmaker 2) from Sunsine Audio.
Plasticid MkII for iOS features
120 One Hit Samples.
18 Kits.
18 .bmkz files for Beatmaker 2.
18 .trg files for Nanostudio.
Easy Installation Instructions.
Plasticid MkII for iOS is available to purchase for $3.40 USD. The original Wav edition is available from Waveshaper.
More information: Sunsine Audio