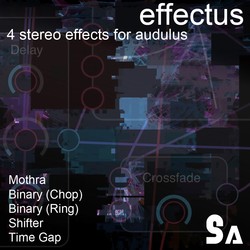 Sunsine Audio has released Effectus, a collection of 4 stereo effects for Audulus.
Effectus contains 4 stereo effects ready for standalone or Audiobus use.
Effectus features
Shifter – Shifter contains a pitch shift section as well as a ring mod section. Both can be used independently or mixed together as well as mixed with the original signal. This is the free demo instrument.
Binary (Chop) and Binary (Ring) – Binary is an amplitude modulator or gate device, and comes in two flavors. Binary (Chop) allows exploration of slower speed stereo gating effects while Binary (Ring) brings the amplitude modulation into the audio range, producing ring modulation effects with a different tone than the "traditional" ring modulation in Shifter produces.
Mothra – Mothra is a sequenced and filtered reverb. Each input is individually fed through a network of distortion devices, simple low pass filters, and reverbs which are then delivered to a 16 step sequencer providing strange stereo and resonant spaces which can be "stepped" through.
Time Gap – Time Gap is a filtered stereo delay with cross feed between the left and right channels. A simple high pass filter is followed by three delay units with two resonant low pass filters placed between them, delays can be cross fed at two points in the signal chain.
Effectus for Audulus costs $3.99 USD.
More information: Sunsine Audio