lmdsp has released an update to the Superchord sympathetic string resonance plug-in to version 1.2.0.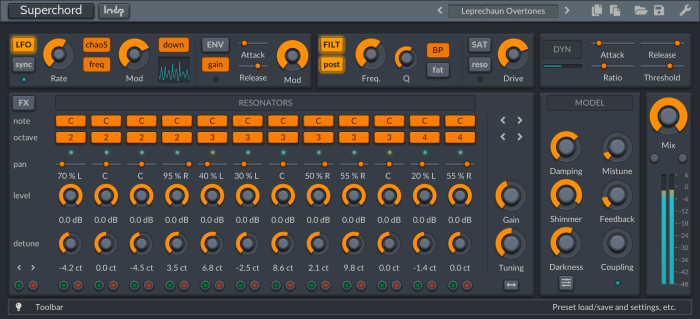 Superchord is a novel effect plug-in which emulates virtual strings resonating in sympathy with the input audio. The strings can be tuned to any pitch, and even be played live using MIDI, as an instrument.

Superchord transforms your sounds into complex, animated textures with an organic quality. It can also be used as a special kind of reverberation to add a touch of ambience to your tracks.
Changes in Superchord v1.2.0
Windows HiDPI support in compatible VST3 hosts: Bitwig Studio 3, Cockos Reaper 6.04, FL Studio 20, Presonus Studio One 4, Steinberg Cubase 10, Steinberg WaveLab 9.5, Tracktion Waveform 10.
Windows HiDPI support in compatible VST2 hosts: Presonus Studio One 4.
Revised buzz model giving drastically improved sound.
Added scaling for main model parameters to add variations across resonators.
32-bit windows support will be removed in the next version.
macOS 10.15 Catalina compatibility.
Reduced drawing jitter.
Reduced CPU usage.
Special Sound Design NKS preset with all controllers mapped enabling full control of the plug-in and acessibility to visually impaired users.
Support VST3 pre-fetch for improved performance with ASIO-Guard enabled.
Fixed graphic corruption when moving to a HiDPI monitor in certain macOS hosts.
NKS automation was not restored correctly between sessions.
Removed workaround for Maschine parameter label bug fixed in versions above 2.8.0.
Fixed a few graphic inconsistencies in HiDPI mode.
Added a workaround for duplicate factory banks when reopening editor in Tracktion Waveform.
Fixed a rare case when AU plug-in would fail to be licensed.
Allow installation on ancient 32-bit editions of Windows.
Superchord is available in VST/VST3, AU and AAX plugin formats, priced 99 EUR.
More information: lmdsp