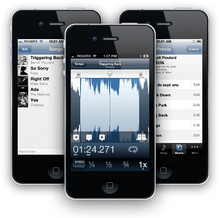 SuperMegaUltraGroovy has announced the release of Capo, an app for the iPhone and iPod touch that allows musicians to choose music from their iTunes library and helps them learn how to play it by ear.
"This release was long overdue," says Chris Liscio, the company's founder. "If I could pinpoint a single request that topped the list of support emails from the desktop version, it was a version of Capo built for the iPhone and iPod touch. In addition to guitarists, my customers also include players of less portable instruments, such as drums and pianos. These folks made it very clear that they needed something mobile."

Capo carries its design sensibility over from the company's successful Mac version, focusing on ease of use and streamlined performance. In addition, the functionality had to be distilled into a core set of tools that would be easily accessible on a 3.5″ touch screen device for portable learning.

Using Capo, musicians can slow the music down to a tempo that's comfortable for them to play, change the pitch to match their tuning or range, insert markers, and set loops, helping to quickly learn specific passages or riffs. Capo can load songs directly from the iPod library or from the currently playing track in the iPod application. The portability of Capo on the iPhone or iPod touch makes it a great learning tool in any situation: behind a drum kit, at the piano, on the road or in the practice room.

"Suppose you're listening to a track on your way to work, and hear a killer riff that you want to explore in more detail," adds Liscio. "You can just switch over to Capo, and add the song with a few taps. The cursor is even placed where you were last listening, to save even more time."
Capo is available now on the iTunes App Store for $19.99 USD.
More information: Capo