Surreal Machines has announced the release of Dub Machines, a bundle of two analog inspired delay effect plugins.
The designs of the Dub Machines plugins take full advantage of their digital engines, but their sonic power stems from analog gear and the inspiration it provides.

At the heart of our design process, the technical emulation of well known analog fx units is subjected to fine-tuning by ear in order to challenge the model with creative possibilities that transcend its original design.
Modnetic is a comprehensive emulation of classic analog tape delay hardware from the 1970's, with a few digital twists.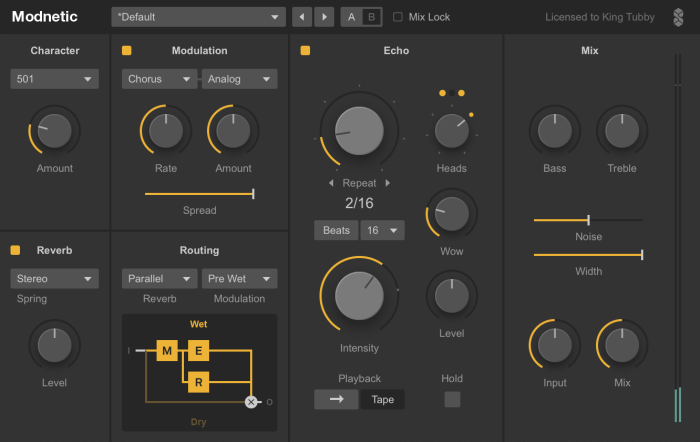 MODNETIC gives you four powerful effects in one: supreme analog emulated tape delay, extremely realistic spring reverb choices, bucket brigade chorus / flanger / phaser and classic tone. Analog sounding on the one hand, but digital clarity and impossible tricks on the other, such as classic digital phasers, reverse-tape and clickless realtime routing options. This is built solid enough for live performance as well as to transform your studio.

Compared to Magnetic for Max for Live, MODNETIC has been optimized from the ground up for better quality and performance, as well as a wider and new set of sounds.
Diffuse is inspired by classic hardware delay and reverb effects from the 1970's and 1980's, taking a Surreal Machines look at the frontier between delays and reverbs.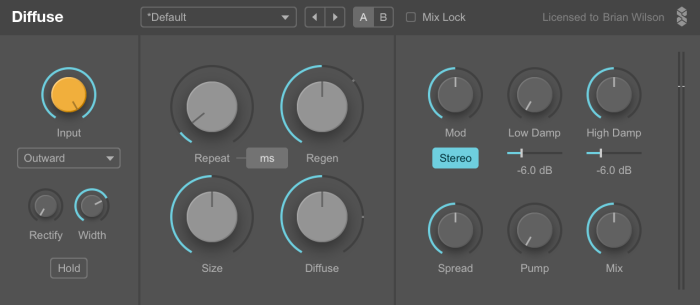 DIFFUSE is an analog/digital hybrid – an analog modeled delay fused with a classic reverb design used in early digital units.

In DIFFUSE you get more than the best of both worlds – you can morph between delays and reverbs, and find all kinds of fantastical sounds in between the two. You'll also find plenty of nonlinearities and smooth tape-style delay changes.

DIFFUSE gives you complete control over smearing, echoes and damping in the most intuitive ways possible.
Modnetic and Diffuse are available in 32- and 64-bit VST/AU formats, priced at 69 EUR and 49 EUR, respectively. Until June 8th, 2017, you can download Diffuse for FREE. After June 8th, both plugins will be available as a bundle for 99 EUR.
More information: Surreal Machines / Dub Machines