Swar Systems has released Swar Studio 3, a new version of the Indian-flavoured DAW software for Windows and Mac.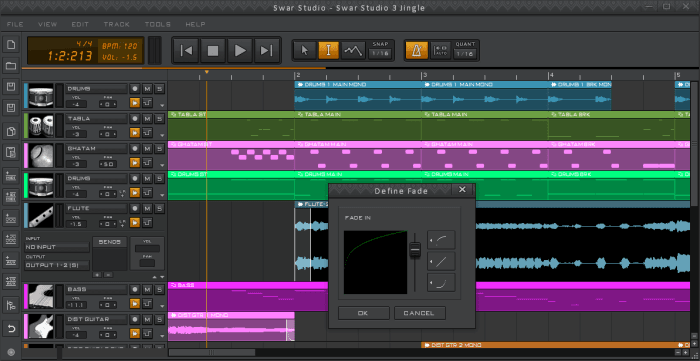 After over a year of hard work, we are delighted to announce a major upgrade to our Digital Audio Workstation (DAW). Swar Studio is now packed with all the functionality you'll need to create professional sounding compositions. With its included 41 virtual instruments, 17 of which are Indian ones, it's the sequencer of choice for anyone wishing to give a little Indian touch to their music.

With Swar Studio, you'll be able to reproduce your favorite Bollywood hits of the past or present days, and/or create your own personal songs for a fraction of the price of setting up an expensive home studio. Swar Studio also includes Karaoke features so you can record your own voice on a new audio track or just sing along with friends.
Swar Studio 3 features
Fully featured, cost-effective DAW (Digital Audio Workstation).
Audio tracks for recording or dragging audio loops.
Instrument tracks for recording from keyboard or dragging MIDI loops.
Aux tracks for grouping output channels and reduce processing.
Input, Output and Sends (32 buses) on each track.
Fades: In, Out and Cross-Fades.
Modulable gain curve across loops.
41 built-in virtual instruments*.
Accepts custom VSTi/Audio Units synths.
Library panel with hundreds of included MIDI loops.
VST and Audio Unit effects.
Piano Roll and Events List editors for MIDI loops.
Quantization.
Mixer view.
Drag loops directly from SwarShala or Swar Librarian.
Export to audio or MIDI files.
Karaoke panels to view/create lyrics in different notations, including Indian scripts.
Auto Backup/Restore functionality.
Full Undo/Redo.
Windows (XP up to Windows 10) and Mac OS X (10.6 up to 10.11).
Swar Studio 3 is available for purchase for $99 USD.
More information: Swar Systems