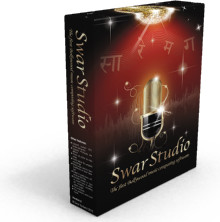 Swar Systems has released version 2.0 of Swar Studio, including enhanced/new sound engines, new MIDI/audio loops, an audio editor, a completely rewritten user manual and more.
Swar Studio is the first sequencer primarily aimed at music from India, whether modern or ancient. It includes both Indian and Western virtual instruments to allow you to create your favourite songs from the film or classical repertoire without the need of any additional tool.

With Swar Studio, you'll be able to reproduce your favorite Bollywood hits of the past or present days, and/or create your own personal songs for a fraction of the price of setting up an expensive home studio.
Changes in Swar Studio v2.0
New and enhanced instruments: We have gone through a serious rework of most of our instruments. We have also added 5 new ones: Dulcimer, Whistle, Slow Strings, Lead Synth and Synth Pad.
New MIDI and audio loops: We have also reworked the Library loops. You now have a large collection of drums, guitar and bass loops, as well as some very nice Indian vocal samples.
New audio editor: We have also included an audio editor, so that you can do the basic editing of your recordings or dropped loops directly in the software.
Enhanced user manual: The user manual was completely rewritten to make it very comprehensive and clear.
Full Undo/Redo functionality: You now have the comfort of undo/redo functionality everywhere in the program, so that you can undo any change you did by mistake.
MP3 export: You can now export your songs in MP3 format. You'll just need to download a valid MP3 encoder, for licensing issues.
Swar Studio for Windows and Mac is available to purchase for $69 USD.
More information: Swar Systems / Swar Studio