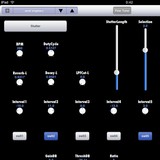 Symbolic Sound has released Kyma Control, an app for the iPad which gives sound designers, musicians, and researchers a new wireless multi-touch controller for the Kyma/Paca(rana) sound design workstation.
For use in the studio, on stage, in a theatre or performance venue, in an installation, in the lab, at home, or in classroom, Kyma Control frees you from having to sit in front of your computer. Put yourself in the middle of the audience, inside the sound field, and perform your Sounds in an expressive, intuitive manner using multi-touch. Performers can have access to sound controls from the stage or in the recording studio, and voice talent can have access to a silent controller in the voice-over booth. In perception and speech experiments, subjects can use a wireless, silent controller with no mechanical parts, perfect for sound-isolation booths.
Kyma Control features
An auto-mapped, labelled, bi-directional controller/display that mirrors Kyma's Virtual Control Surface. All of the controls you see on the computer screen are also available on the iPad screen, including the Preset selection and Roll-the-dice options.
A multi-touch pen/tablet-style controller, tracking as many as 11 fingers with identifying color trails to help you keep track of where your fingers are touching the screen.
A standard piano-style keyboard with discrete or continuous pitches and an extra dimension for !KeyTimbre control in Kyma.
A Tonnetz pitch-space keyboard with configurable vertical and horizontal intervals for experimenting with different pitch layouts.
Plus accelerometer and compass-heading controls. Accelerometers supply both triggers and continuous controls based on acceleration in the X, Y, and Z directions, along with controls corresponding to Pitch, Roll and Yaw. A compass heading control corresponds to the current direction of the iPad and is useful for panning and other directional controls.
Kyma Control is available to purchase from the iTunes app store for $14.99 USD.
More information: Symbolic Sound / Kyma Control