ProjectSAM has announced the release Symphobia 4: Pandora, a new virtual instrument that aims to give your action, sci-fi, and horror scores a blockbuster boost.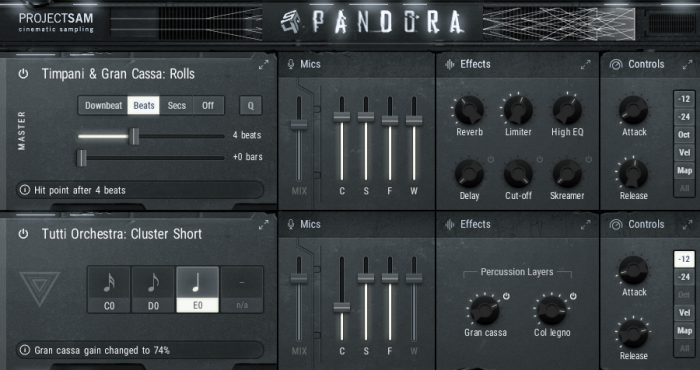 Pandora lets you summon rousing cinematic risers, foreboding falls, and earth-shattering crescendos with unmatched ease and flexibility.
Symphobia 4: Pandora is packed with transitional samples – sounds that progress dynamically or directionally over time – ranging from powerful brass crescendos to dissonant string risers. These samples all have one thing in common: a distinct, musical ending or climax.

With Adaptive Sync, you can simply set the number of beats or seconds you need the crescendo, roll or riser to be. Tapping from a vast pool, Adaptive Sync automatically picks the best matching recording from its database and intelligently adjusts it to match your hit point exactly.

Similarly, you can very quickly time a crescendo or roll with the next downbeat. If you move a note backwards or forward, the engine will automatically switch to a better matching recording if needed. If you change your track's tempo, Adaptive Sync will adjust accordingly.
Symphobia 4: Pandora features
Effortlessly sync risers, rolls & crescendos to your sequence with Adaptive Sync.
Over 140 GB of new orchestral ensemble recordings covering strings, brass, woodwinds & percussion.
Generate thrilling scores with powerful, fully customizable sound design tools.
Pandora is available for the introductory price of 499 EUR / $559 USD until November 30th, 2019 (regular 599 EUR / $659 USD). The library runs in Kontakt 6.1 and the free Kontakt Player.
More information: ProjectSAM