Synapse Auduio has updated its Hydra versatile synthesizer plugin for Windows and Mac to version 1.4.
The Hydra is a multi-model synthesizer, features three different routing models, each with three oscillators. Each routing model combines the three oscillators in different ways, by phase modulation or ring modulation – and each model has radically different possibilities.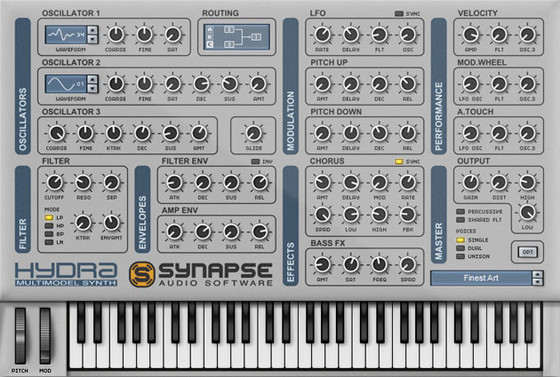 Changes in Hydra v1.4
Changes specific to the Mac OS X version:

64-bit VST and Audio Unit versions.
Waveform popups added.
VST plugin name corrected.
Various bug fixes.

Changes for both platforms, Windows and Mac OS X:

Zipper noise issues fixed when setting chorus delay, modulation and spread.
Zipper noise fixed when turning main volume knob.
Improved Distortion quality (no longer adds quantization noise).
Improved Chorus quality (no longer adds aliasing noise).
Hints for all knobs.
128 Patches instead of 150 for enhanced Cubase compatibility.
Various bug fixes.
Hydra is available to purchase for $59 USD. The update is available in the service area for all registered users, free of charge.
More information: Synapse Audio