Synapse Audio has launched the GQ-7, a equalizer effect for Propellerhead Reason.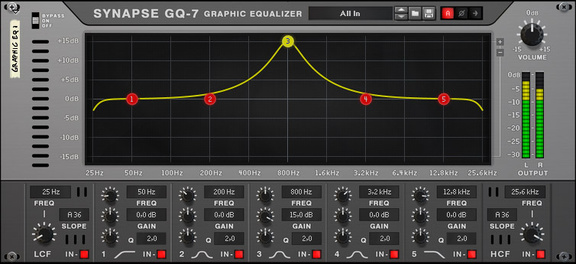 The Synapse GQ-7 rack extension is designed as a professional mixing and mastering equalizer, offering five bands with high-quality parametric and shelving EQs, plus two additional low- and high cut filters with variable slopes. The GQ-7 is suitable for a broad spectrum of tasks — whether you need an equalizer to mix instrument tracks, remove problem frequencies in your master with surgical precision, or get rid of the mic rumble in recordings, the GQ-7 does it all, while delivering superior results.

All filters in the GQ-7 are designed to handle modulation without artefacts, such that the EQ can be used for creative purposes too, well outside the realm of traditional EQ applications. Especially the low- and high cut filters are well suited for creative purposes- their unique sound offers a great alternative to the typical sound of standard low- and high pass filters.

With Auto-gain compensation (AGC), Phase Inversion and Send Mode on board, the GQ-7 surpasses most equalizers in terms of flexibility.

The GQ-7 was designed with low CPU usage in mind, allowing to use a large number of instances simultaneously on modern computers. Unused bands are not processed, furthermore the EQ requires no CPU power when idle.
The GQ-7 Rack Extension is available for purchase for 65 EUR.
More information: Synapse Audio