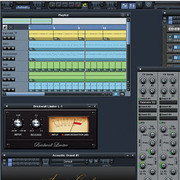 Synapse Audio has released version 8.5 public beta of Orion, a complete virtual studio with a powerful sequencer, synthesizers, effects and a mixing desk.
Orion 8.5 is now available as a public beta version in the service section for registered users. This version is a major update, adding several new high-quality effects, an improved workflow and a great new default skin designed by Nick Moritz. Many issues users reported with the previous version 8.02 have been addressed as well.
Changes in Orion 8.5 public beta
Key Features introduced in Version 8.5

:

New default skin by Nick Moritz.
New effect: RNA-160 Compressor/Limiter, a faithful emulation of an outboard legend.
New effect: Concert Hall, a new algorithmic reverb with a high-quality sound.
New effect: Analog Phaser, an anlog-modelled six-stage phaser.
New effect: Vintage EQ, tone stack emulation of the legendary '59 Bassman Amp.
Compressor CV-82, an improved version of the Compressor 8 with additional features.
Sidechain support for VST effects.
Pro-9 extended with the Noise Spread knob, which increases the spaciousness of the Snare and Clap sound in the stereo field.
ASIO Outputs can be freely assigned to individual subgroups in the Master section.
Skinning system completely overhauled, skins are easier to develop and maintain now, most.
knobs support alpha-blending and an arbitrary number of frames.
Toxic 2 synthesizer engine completely overhauled, its performance is now up to 50% higher.
than previously. New "Pan Spread" knob for spreading Unison voices in the stereo field.
All workspace windows can snap to a user-definable grid, facilitating the window arrangement.

Workflow Enhancements

:

Popup Hints for generator knobs (can be turned off).
Current Parameter value visible in event editors (red line by default, user-definable).
All workspace Windows can snap to a user-definable grid.
"Clone" function which clones all patterns and the arrangement of a generator to a new track. The source mixer strip with all its associated insert FX and EQ settings can be optionally cloned as well.

Bug Fixes

:

Toolbars no longer 'blink' when clicking on them.
Some VST plugins did not redraw properly, fixed.
Assigning Transport buttons to MIDI CC did not always work properly, fixed.
Song Merge did not always work properly, fixed.
MP3 Export did not work in 64-bit version of Orion, fixed.
Incorrect meter drawing while mixer was moving, fixed.
Audio glitches while window was moving or scrolling, fixed.
Playlist cursor drawing bugs while window was moving, fixed.
Song Length was not correctly updated when adding huge patterns, fixed.
Mousewheel did not work properly in all cases, fixed.
Modules were loosing focus and focus was set for playlist (TAB shortcut issue), fixed.
Deprecated effect "Simple reverb" was not recovered properly from older projects, fixed.
"Audio Input" text was not drawn properly on expanded playlist, fixed.
Hitting [Alt]+[-] to invoke MDI window caused hang, fixed.
Styles imported from V7 with automation in them did not show the automation, fixed.
Pattern list Drop-down in Playlist did not always work, fixed.
VST effect "PSP-85" crashed after inserting it, fixed.
"Receive MIDI from…" did not work for VST effects, fixed.
IL plugins had drawing issues, fixed.
Recorded MIDI CC Automation was sometimes not shown for VST plugins, fixed.
Event Editor: Events drawn with the line tool while left button was held down were erased by playlist cursor, fixed.
Imported v7 projects with many generators did not show all mixer strips, fixed.
Scrolling in Piano Roll and Playlist was sluggish sometimes, fixed.
Generator window was not resizable if pianoroll was opened while window was rolled, fixed.
After un-maximizing a window, the border was not redrawn correctly, fixed.
Toxic 2 "Init Program" function created a silent patch, fixed.
Calling up minimized Windows from the Window menu did not work, fixed.
On some systems the Mixer had redraw issues, fixed.
Orion 8.5 public beta is now available to download for registered users.
More information: Synapse Audio