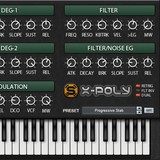 Synapse Audio has released X-Poly, a major upgrade to its instrument plug-in Poly-850.
The concept of the X-Poly is based around two oscillators, each containing four special sub-oscillators spaced one octave apart. Both oscillators can be blended seamlessly between a square and a sawtooth-type waveform and can be freely panned in the stereo field. The six-stage envelopes controlling the amplitudes of the oscillators provide a linear slope for the first five stages and a semi-logarithmic release for the final stage.

A global filter applied to all voices simultaneously as well as a stereo noise generator and a sophisticated chorus effect complement the unique sound of this instrument plugin. As a result, the X-Poly is particularly great for warm backing sounds, leads and atmospheric pad sounds, that fit nicely into the mix.
X-Poly features
Full Stereo engine.
Panorama knob for both oscillators.
Dual Voice mode for thicker patches.
Enhanced interface.
Stereo Noise generator, providing more spacious sounds.
Release stages are now semi-log as opposed to linear (sounds better).
Zero CPU usage when idle.
Chorus section now provides feedback and modulation depth controls.
Maximum polyphony upgraded to 20 voices.
Semi-transparent readouts for all knobs.
Additional presets added.
LFO Rate range extended.
Amplitude responds to velocity.
Multiple instances on multiple cores now work properly.
Visual Glitches in the option menu fixed.
Keyboard now responds when triggered via MIDI too.
X-Poly is available to purchase for Windows and Mac (VST/AU) for $49 USD. It is available to all registered users of the Poly-850 or SynthPack Ultimate free of charge.
More information: Synapse Audio