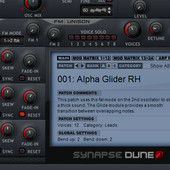 Synpase Audio has announced that the installation programs for DUNE 1.4 have been updated for both Mac OS X and Windows.
Changes in DUNE 1.4 installers
Mac OS X: Synapse DUNE is now digitally signed for Apple's Gatekeeper secure download system, in order to comply with OS X 10.8 Mountain Lion. This allows a smooth installation without workarounds when Gatekeeper is activated.
Windows: Both the 32- and 64-bit versions have been updated to allow DUNE to work after installation into restricted user accounts. Previously this would require to run the host DAW with administrator priviliges, which is no longer necessary.
Dune is currently available to purchase for $99 USD, including two bonus soundsets by Rob Lee in the Synapse Audio Christmas Sale (ends December 31st, 2012).
The update is available in the service area for all registered users.
More information: Synapse Audio