Synapse Audio has released version 2.5 of the Dune 2 synthesizer instrument for Windows and Mac.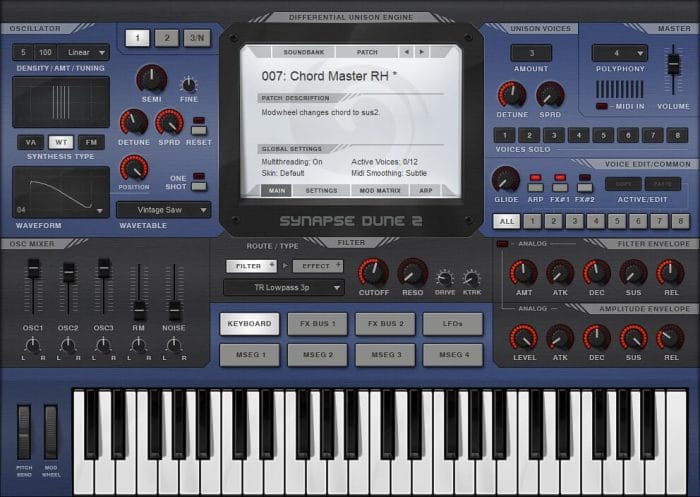 This major update introduces new virtual-analog filter models, new ADSR envelopes and new patches – increasing the factory library to 500 patches. Furthermore, this update adds AAX support for ProTools users.

As an extra bonus, and to celebrate the holidays we are adding a large set of Ambient patches by sound desiger Armin Malbertz for free. The set contains 250 new, ready to use patches and can be accessed by clicking on the Soundbank tab in DUNE 2 – a separate installation is not required.
Changes in Dune 2 v2.5
New Patches — The factory library has been extended to a total of 500 patches. An additional 250 Ambient patches by sound designer Armin Malbertz are available in parts A and B by clicking on "Soundbank".
New Envelopes — The Filter ADSR section in version 2.5 gains an "Analog" switch, which uses a novel circuit-simulated envelope model for the filter and amplitude envelope. The circuit model is based on discrete vintage-analog electronics, and models the envelope with a very high accuracy. The difference is usually best audible with fast attack times, where it creates a very "snappy" envelope. As an example patch, try the new patch "Precision Trance KS" then turn on/off the analog envelope to hear what it does to the sound.
New Filters — Two new filter models named "Expander", a 12 dB type and a 24 dB type. What's different is that those filters are oversampled and can deal with saturation/drive much better than the previous filters. They also feature an improved resonance behavior above 10 khz and were designed to work best with the new analog envelopes.
AAX Version — Dune 2.5 is Synapse Audio's first plugin that comes with an AAX version for ProTools 64-bit, both Mac and Windows. Please note that ProTools 11 or higher is required to run the AAX version of Dune 2.5.
Dune 2 for Windows and Mac (VST/AU/AAX) is currently on sale for $99 USD (regular $169 USD). Prices ex. VAT in EU. The updates is free of charge for all Dune 2 users from the support area.
More information: Synapse Audio