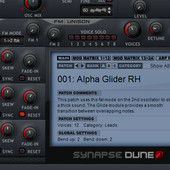 Synapse Audio has released version 1.31 of the Windows edition of Dune, a virtual synthesizer instrument plug-in.
The differential unison engine (DUNE) takes the concept of subtractive synthesis to the next level, by allowing full control of each unison voice. This greatly extends the range of possible sounds, reaching deep into FM and Wavetable synthesis.
Changes in Dune v1.31 (Win)
Under Reaper/Win XP, there was a visual glitch related to the window focus, fixed.
Under Win XP, sometimes the waveform display text would get too large, fixed.
The Win x64 edition didn't recall its state properly, fixed.
The update is available in the service area.
More information: Synapse Audio