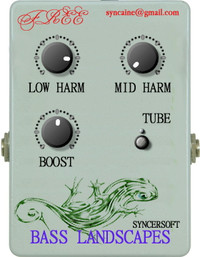 SyncerSoft has announced that its Bass Landscapes effect plug-in for Windows and Mac is now available as freeware.
Bass Landscapes VST & AU is a new bass boost audio plugin that creates new harmonics. With help of low-mid boost you can properly suite your bass or kickdrum in the mix.

For those who like to add vintage touch to sound of their bassline tube emulation is now available. Plugin creates effect of intellectual boosting of harmonics in terms of Intellectual Information Technology (IIT)

Development of this plugin was inspired also by psychoacoustics research of Shlejonkin Alexandr and russian works on mathematical physics.
The plug-in is a free download at SyncerSoft.
Visit Bass Landscapes for more information.