Synclavier Digital has announced the release of Synclavier Go!, placing a re-creation of the seminal Synclavier II Digital Synthesizer's sound engine into the hands of iPad owners.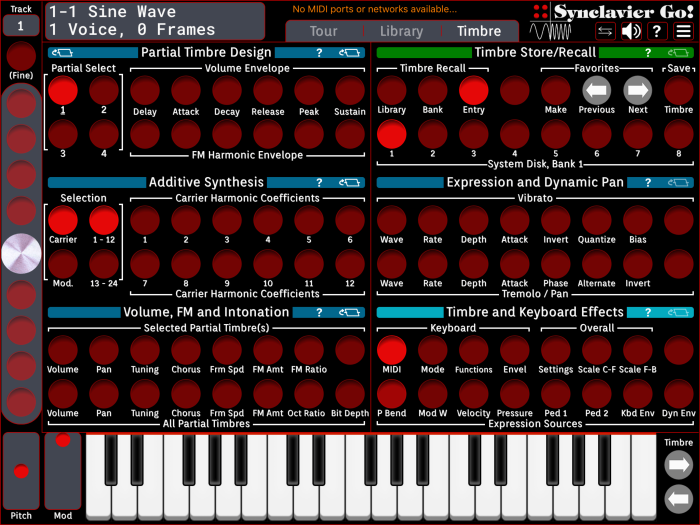 Additive FM Synthesis was never more fun. The intuitive touch-screen interface is a joy to use. It's a snip to transform simple sine waves into grungy brass attacks, swishy FM chimes, or charismatic string sounds.

Synclavier Go! comes packed with preset timbres — over 900 of them. Every conceivable parameter is tweakable. Go! supports twelve partials, so you can layer luscious sounds; and unlimited frames, so sounds can evolve over time. Create something you like the sound of? Simply save it to one of your custom libraries.

Synclavier supports keyboard modes such as portamento, arpeggiate, mono/poly triggering, and many more, all savable to individual timbres. Add texture to your sounds with Chorus, Tremolo, Vibrato, Panning. You also have full control of over 24 harmonics when you want to go deep, as well as the ability to quickly change waveshapes from Sine, Triangle, Square, Ramp, or Impulse.
Synclavier Go! features
Over 900 Authentic Synclavier Sounds.
New presets added for Go!
Harmonic Additive Synthesis Engine.
MIDI, Audiobus, Ableton Link supported.
Superior Touch UI.
Multi-layer Effects.
Free updates.
In-app Purchases available for advanced features.
Synclavier Go! for iPad is available for $39.99 USD.
iPhone and iPod Touch users can get Synclavier Pocket!, a free version of the synth app featuring 3 free "Disks" of authentic Synclavier sounds.
After working on Synclavier Go! and writing the documentation, we realized there was a real opportunity for a fun and educative experience. So, we decided to provide a basic "pocket" version for free. The base download is fairly functional: you can browse and select timbres, play with some of their settings to change the sound, and connect to other equipment, such as a MIDI keyboard or DAW.

The tour pages will take you through the basics of sound engineering and FM synthesis, as well as covering some advanced optional features, and if you want to, you can purchase some of the advanced features for a nominal fee. These in-app purchases help fund the development of the app.

The possibilities for sound design and song creation are at an all time high, and we're excited to hear what a new generation of owners will do with this new authentic instrument. As a fully-functional free download, it's our hope that we can help to start some young wanna-be audio enthusiasts on a path to a career in sound design. Or the beginning of a worthwhile hobby.
Synclavier Pocket! is a free download with In-app Purchases available for advanced features.
More information: Synclavier