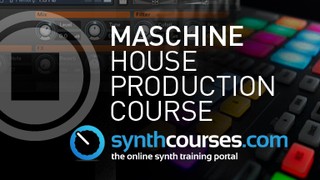 Synth Courses has introduced its NI Maschine House Production Course, a new online training.
Want a little help figuring out how to make music with Maschine? Wondering what the stages of putting a classic house track together are?

This course helps satisfy both requirements by showing you how to make a classic house track with Maschine, from the initial beat creation, right through to final mastering of the output bus!

The length lesson, in 2 parts, is the final module from the full Maschine course (out December 2012), which goes through every individual process in more detail – a complete beginner may want to check out that instead. However, someone with a little experience of Maschine already, or a fast learner, can enrol right away to learn a whole host of tricks for music making with Maschine and taking your house production skills to new levels!
The course is now available priced at 24.78 EUR.
More information: Music Courses / NI Maschine House Production Course