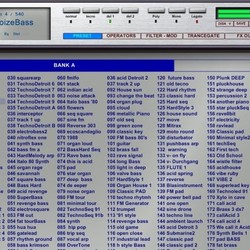 Synthblitz Audio has updated the Deep One synthesizer instrument plug-in to version 1.04.
This new version adds a control knob for unison voices and a control knob for FM that affects simultaneously on all operators, this is located on the main panel for comfortable use.

Also added is a function in the "LFO 1" to control the global FM for moving sound, plus another sine oscillator called "digital sine" in the operator section and a switch to the total reset to default.

Also reduced noise, and replaced some sounds.
Changes in Deep One v1.04
Unison control knob.
Global FM CONTROL KNOB in the principal panel.
New function "FM-LFO" in LFO 1 (modulation page).
Switch "Reset To Default".
New Digital Sine osc.
Replace more presets.
Deep One for Windows (VST) costs 49 EUR.
More information: Synthblitz Audio / Deep One