Synthblitz Audio has released version 1.07 of Deep One, a FM synthesizer (phase modulation) with 6 operators designed to generate sounds used in electronic dance music.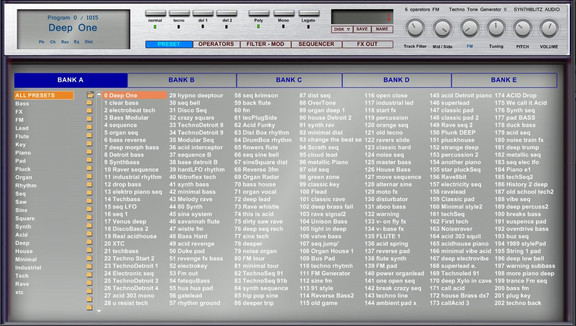 With 7 digital oscillators and 345 waveforms, it combines FM and Subtractive synthesis using 4 filters that can work in parallel or serial mode.

Deep One can also add the modulator with the carrier, and its output go through 7 effects; phaser, chorus, distortion, EQ, reverb, echo, panner. It has many possible modulations by 8 LFOs and 3 envelopes.
Changes in Deep One v1.07
New file manager.
Now 345 waveforms inside.
Improved sequencer, adds "cent" and "scale" for semitones.
Random function to quickly change oscillators and waveforms.
Random function for FM.
Resample feature for each waveforms.
Polyphony up to 64 voices.
1015 sound presets.(House, Techno, Deep, old school and more).
Deep One for Windows (VST) is available for purchase for 29 EUR.
More information: Synthblitz Audio