Synthblitz Audio has released version 1.2 of its VA RAXS multi-effect mastering rack plug-in for Windows.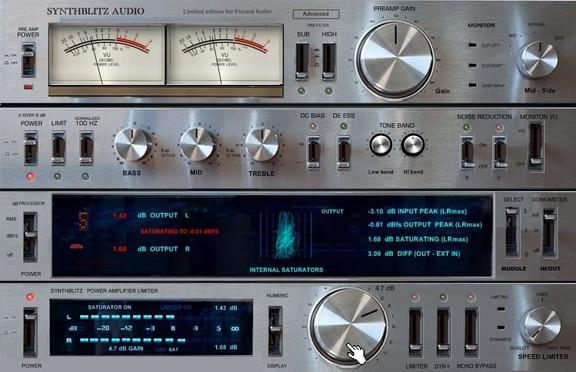 VA RAXS is now equipped with its own saturators that allow the rack to operate in several modes, including one dedicated to the emulation of analog circuits.
Changes in VA RAXS v1.2
New dB module processor (check dBfs and RMS for each module and for outputs).
New features for sub (Q control and more).
New feature cut-frequency for incoming signal (cut from 1 hZ up to 40 hZ).
New switch Mono/Bypass for test (in the amplifier).
3 mode for processing incoming signal (bypass saturators, internal saturators and analog emulator).
New shourtcuts and mouse double click – right click.
New feature "after output compensation" (up to -1.5dBfs).
New parameters for gain input and gain output.
New internal saturators.
New algorithm for va mode (circuit emulator).
New flash alerts for output over the zero db (Show dB saturating and more).
Show dBfs and RMS for each module (also RMS percentage in/out).
Improved refresh for VU METER coil.
Fixed error frequency eq 10k and 8 k and "Q" resonance problem.
Changed parameters for eq (from +/-24 to +/-12dB, more usefull for mastering).
Fixed preset parameters (resolve more error when save reverb eq and others in project).
New Presets (up to 28 presets).
Fixed "rename" in preset manager.
Add new visual features in plasma emulator (amplifier).
New parameter for predelay in reverb.
Add post-delay for each channel in reverb.
New Limiter settings, now double position switch (-0.1dBFS and -1dBFS).
Modified limiter "speed control" now works with attack (more bass and RMS).
Improved "fast mode" compressor.
VA RAXS for Windows (VST) is available for purchase for 39 EUR.
More information: SynthBlitz Audio / VA RAXS