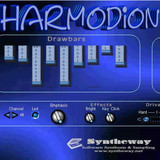 Syntheway has announced the release of Harmodion, a virtual organ instrument plug-in for Windows.
Harmodion is a Drawbar organ and free reed aerophone instrument emulation, including Reed organ, Harmonium, Accordion and Bandoneon among others.

Harmodion uses Additive Synthesis allowing to manipulate harmonically the sine waveform components to produce pitched sounds, as well as to individually detune those components to produce inharmonic timbres.
Harmodion features
9 Drawbars. By sliding drawbars in or out, the user can mix various pitches and create the richly distinctive sounds of an electric organ or of a free reed aerophone instrument.
The Additive synthesis constructs complex sounds by controlling the level of individual sine-wave components. The sound can be reshaped by alterations made to timbre. A harmonic sound could be restructured to sound inharmonic, and vice versa.
The rich harmonic content of their sound allows to generate the widest palette of tonal variations for Drawbar organs, Reed organs and Squeezeboxes emulations.
Vibrato effect, with depth and speed modulation controls.
Adjustable Key Click simulation to add the percussive effect for distinctive organ sounds and button click noise in Accordion and Bandoneon presets.
Configurable Drive level. Accomplished by clipping the input signal, this effect adds sustain and additional harmonics and overtones to the signal, creating a richer sound with a warm thickness regarding to the original tone.
32 Presets available for immediate use in a wide range of genres from blues, jazz, gospel and rock styles to folk, ethnic and popular music.
FULL MIDI Automation: Complete MIDI Continuous Controller (Control of all parameters for use with external hardware control).
Harmodion is available to purchase as a VST instrument plug-in for Windows PC for $34.90 USD. A fully functional demo version is available to download (produces beep every 10 seconds).