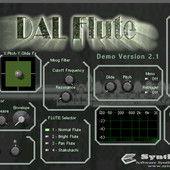 Syntheway has released version 2.1 of DAL Flute, a virtual flute instrument plug-in for Windows.
DAL Flute is a virtual woodwind instrument combining multi-samples of real flutes with a Digital Signal Processing (DSP) engine. Offers control over several parameters allowing you to sculpt new and interesting sounds.
Changes in DAL Flute v2.1
Added the Shakuhachi, a Japanese end-blown flute with 8 presets including natural and synthetic sounds.
Some changes in the graphical interface.
Minor adjustments have been made to the default settings.
Added link to website in company logo and updated help/info CHM file by clicking on "question mark" (?) icon.
Small bug fixes.
DAL Flute for Windows PC (VST) is available to purchase for $29 USD.
More information: Syntheway