KV331 Audio has announced a new update for SynthMaster One, the wavetable synthesizer instrument for Windows and Mac.
The update includes AAX support for Pro Tools 10.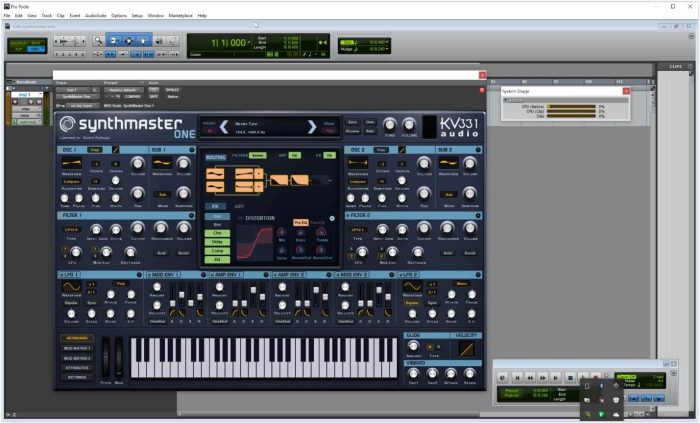 SynthMaster One is an easy to use wavetable synthesizer with an intuitive workflow. Although it shares the same engine with its bigger brother SynthMaster, it comes with new features like wavetable synthesis.

With its simple layout, rich wavetable/waveform content and inspiring factory presets library, designing new sounds with SynthMaster One is a real joy.
Changes in SynthMaster One v1.0.5
AAX Format: SynthMaster One now works as an AAX instrument inside ProTools 10 and above.
New Factory Presets: SynthMaster One comes with 100 new factory presets by BigTone Studios and DeJaVu Sound.
Drag-n-Drop waveform/wavetable import: Users can now import waveforms/wavetables by simply dragging and dropping WAV files into the oscillator waveform displays.
Left/Right arrows to cycle through waveforms/wavetables: The oscillator waveform display controls now show arrows so that users can cycle through waveforms/wavetables.
Audio Input: SynthMaster One now features a new oscillator type called "audio in", which makes it possible to pass audio input through the filters, envelopes and effects sections of SynthMaster One.
Fixed: Some skins are clipped by the DAW application.
Fixed: SynthMaster One generates noisy output when engine buffer size >= XLarge and engine quality >= Better.
Fixed: Portamento duration shortens when engine quality is increased.
Fixed: SynthMaster One Windows setup doesn't write installation location to SynthMasterOneFolders.txt file on 64bit systems.
Fixed: Added Windows keyboard handler for up/down/left/right arrows to the plugin editor window.
Fixed: When skin scale is not 100%, volume meters report incorrect values.
Fixed: When engine quality > Good, EQ highpass filter enters into positive feedback causing overflows.
Fixed: LFO synced speed stays at 1/32 when 1/64 or 1/128 is selected.
SynthMaster One (VST/AU/AAX) is available from Plugin Boutique at 40% off until September 5th, price at £45 GBP. Bundles are also available.
More information: KV331 Audio / SynthMaster One