Plugin Boutique has launched an exclusive sale on the SynthMaster Player by KV331 Audio, offering a 86% discount on the powerful synth plugin which comes fully equipped with 1,700 presets.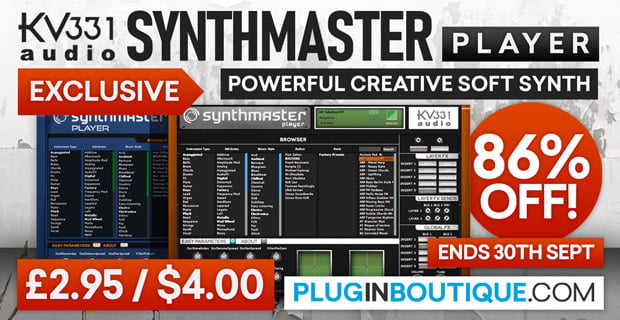 SynthMaster Player is a simplified version of SynthMaster with limited editing capabilities. It is targeted towards users who prefer to use presets rather than designing their own sounds.

The paid version comes with 1700 factory presets. Users can edit the 12 easy parameters or the bypass states of layer/global effects assigned for each preset by the sound designer.
SynthMaster Player features
Cross-platform VST, AU and AAX: SynthMaster Player runs as a VST, AAX instrument on both Windows and Mac OSX, and as an Audio Unit instrument on Mac OSX.
1700 Factory Presets: SynthMaster Player comes with 1700 factory presets from a world class team of sound designers: Arksun, Aelyx Design, Aiyn Zahev, Bluffmunkey, BigTone, Frank 'Xenox' Neumann, Gercek Dorman, Michael Kastrup, Nori Ubukata, Rob Lee, Umit 'Insigna' Uy, Ufuk Kevser, Teoman Pasinlioglu, Vandalism, Vorpal Sound and Brian 'Xenos' Lee.
Easy Parameters: Each preset in SynthMaster Player has 8 easy knobs and 2 XY pads assigned by the sound designer. Users can edit these parameters to modify the preset's timbre. The easy parameters can be linked to MIDI controllers using the easy to use 'Midi Learn' feature.
Microtuning: SynthMaster Player supports Scala tuning, so tuning can be set either for each preset or globally by loading from a Scala tuning file.
Preset Browser: SynthMaster Player features a comprehensive preset browser with separate search criterias for instrument type, preset attributes, music style or preset author.
Multiple Skins: SynthMaster Player comes with 2 different skins in different color variations. Using the user interface editor (included in SynthMaster/SynthMaster DEMO), users can not only customize the existing skins but also can create their own custom interfaces as well.
SynthMaster Player is available for only $4 USD / £2.95 GBP until October 1st, 2018.
During the sale, owners of SynthMaster Player can also upgrade to Synthmaster One, the Synthmaster & Synthmaster One Bundle and the Everything Bundle at up to 35% off regular.
More information: KV331 Audio