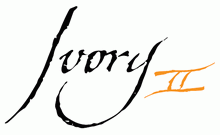 Synthogy has announced upgrade paths as well as pricing levels for the next generation of all Ivory piano products.
All current users of Synthogy products will be able to upgrade to the Ivory II versions at the following prices: Ivory Grand Pianos Upgrade-$89, Ivory Italian Grand Upgrade-$45, Ivory Upright Pianos Upgrade-$79. All Ivory II products are scheduled for release in May 2010.

In addition, anyone who has purchased any Synthogy products on or after November 1, 2009 will be eligible to receive a free upgrade to the Ivory II version of that product. Anyone who has purchased the Ivory Grand Pianos Version 1.7 upgrade for $149 at any time, will be eligible to receive a free Ivory Grand Pianos II upgrade.

New pricing for all Ivory II products is as follows: Ivory II-Grand Pianos $349, Ivory II-Italian Grand $179, and Ivory II-Upright Pianos $299.
Changes in Ivory II
Powered by a new custom engine, the entire line of Ivory virtual pianos will feature groundbreaking new technology, a new graphic interface, and further expanded piano sample sets to provide performers and producers with more expressive detail than ever.
A host of new piano-related features has been added to the Ivory II engine. Principal among these is Sympathetic String Resonance, a sought after but elusive characteristic of real pianos that Synthogy approaches in a unique way to realize the complexities and subtleties of sympathetic string excitation.
Ivory II also addresses Synthogy's most frequent customer requests with features like Half Pedaling, Lid Position, Pedal Noise, and Tuning Tables to deliver the most detail and control available in a virtual piano.
Additional features like Timbre Shifting, Parametric EQ, and new Synth Layer control offer new sound sculpting capabilities for custom piano programming and sound design.
At the heart of Ivory II are Ivory's legendary pianos. Each Ivory piano, in every Ivory product, has been further refined and developed to include more velocity levels (up to 18 per piano), more soft pedal samples, more release samples, with greater fidelity and refinement than before.
Ivory-Grand Pianos, Ivory-Italian Grand, and Ivory-Upright Pianos are distributed in North America by ILIO, carrying the highest quality virtual instruments, sample libraries, and creative tools for professional musicians.
More information: Synthogy