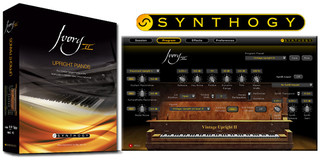 Time+Space has announce that Ivory II Upright Pianos by Synthogy is now shipping within the UK.
Synthogy's classic collection of four Vertical Pianos now enjoys the full benefits of the powerful new Ivory II piano DSP engine, with Harmonic Resonance Modeling for true Sympathetic String Vibration.

With each of the four Upright Pianos boasting more velocity layers, pedal noise enhancements, half-pedaling, and more, Ivory II Uprights offers a more intimate and authentic playing and listening experience than ever before.
Ivory II Upright Pianos features
4 hand selected Upright Pianos including:

Yamaha U5 Modern Upright
1914 A.M. Hume Vintage Upright
Honky Tonk, Barroom Upright
Real Tack Piano

Includes the Award-winning Ivory II piano engine.
More than 84 GB Core Library.
Up to 16 Velocity Layers.
Harmonic Resonance Modeling for True Sympathetic String Resonance.
Custom Upright Soundboard Emulation DSP.
Separate, selectable "creaks and clunks" layer, for added character.
Half-pedaling.
Pedal Noise Enhancements.
Synthogy's exclusive, powerful 32 bit Sample Playback and DSP engine, designed specifically for recreating the acoustic piano.
Release samples triggered by velocity and duration.
Timbre-shifting, Parametric EQ and new Synth Layer controls for powerful sound sculpting capabilities.
All 88 keys individually sampled in up to 16 dynamic levels.
Incorporates exclusive Sample Interpolation Technology used for ultra-smooth velocity and note transitions.
World class digital FX including Real Ambience, Chorus and EQ.
Customizable User Controls for Timbre, Stereo Width and Perspective, Velocity Response, Mechanical Key Noise, Lid Position and more.
Tuning Tables.
Optional synth pad layer for modern/pop combinations.
Dozens of new programs and effects presets.
Ivory II's "unified interface" feature enables you to use just a single instance, and one interface, to play and control all of Ivory II's pianos, no matter how many pianos you install. So whether you own one, any two, or all three products, Ivory II's intelligent browsing feature allows you to load any piano from one convenient interface.
Ivory II Upright Pianos is available from Time+Space for RRP £199 GBP / £52.95 GBP (upgrade).
Any user who registered the previous version of Upright Pianos after 1st November 2009 may be eligible for a free upgrade. Simply call Time+Space on 01837 55200 with details of your existing serial number so they can confirm eligibility.
More information: Time+Space