Rhythmic Robot has announced the release of Synthulator, a Kontakt instrument inspired by the Emulator II vintage sampler/workstation synthesizer by E-mu.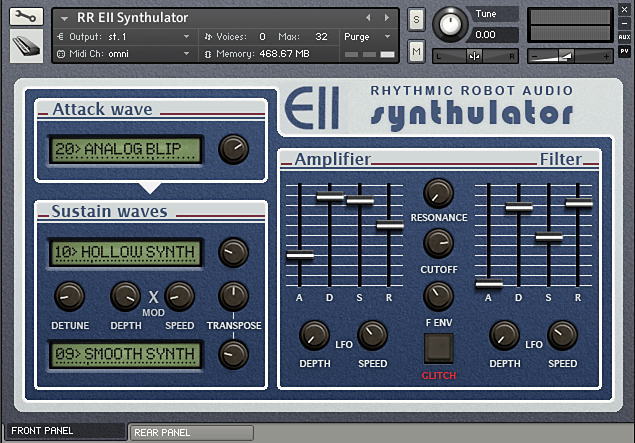 Synthulator works by grafting short sampled attacks (from both acoustic and synthetic instruments) on to long looped sustains (again from a wide variety of sources), in a framework that pays homage to S&S classics like the Roland D50. Since every wave used in Synthulator originated in an Emulator II, the result is a synth with considerable sonic complexity but whose tone is stamped with the EII's signature 8-bit companded "crunch". Both Attack and Sustain components include a wide spread of acoustic and synthetic source material, including a batch of custom-sampled synth staples (sine, saw, square, pulse, triangle etc), all of which have been multisampled chromatically from a reconditioned EII. There are 90 factory patches and over 1.32GB of samples.

Two separate, blendable Sustain waves accessing custom-sampled synth sounds with cross-modulation allow for rich and evolving patches, while extensive performance controls (including velocity control over all three waveform components) allow crossfades, modulation and expression that would have been impossible on an original EII. Rhythmic Robot's Glitch control randomises all settings in a "musically intelligent" way that produces unique new patches at the click of a button, with a high "hit rate" of usable results. Comprehensive effects and LFOs round out the feature set, including a period-accurate convolved Lexicon Reverb.

Synthulator is intended for anyone wanting the Emulator II's signature sound without the limitations of a sample-only framework. It can recreate acoustic tones but is ideally suited for more synthetic, unusual textures with acoustic components.
Synthulator for Kontakt is available for purchase for £25 GBP plus VAT.
More information: Rhythmic Robot / Synthulator