Syntone has launched with the release of three percussion instrument libraries for Native Instruments: Bongos, Timbales and Xylofun.
Bongos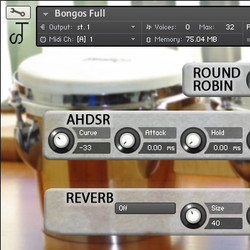 This library is, as the name implies, a set of bongos we deeply sampled. A decent multitude of hits and a good supply of single and looped scrapes await the proud owner of this popular percussion instrument.

One hot day of Australian summer found us sampling these bongos. Battling the weather (it was REALLY hot), we eventually achieved the 1000+ samples we needed to create a product we were happy with.
Bongos features
12 round robins for the hits.
4 round robin for the scrapes.
2 round robin for the looped scrapes.
Up to 8 velocity layers for the hits.
1312 samples.
48kHz/24-bit quality.
169MB (91MB compressed).
Bongos costs $15 AUD.
Timbales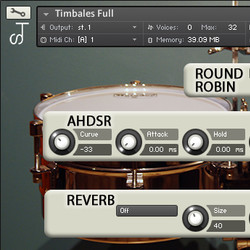 The Timbales is a sample library consisting of a COWBELL and some other drums that make up the timbales.

We figured sampling just the cowbell alone would be counterproductive, so decided to sample the rest of the set, with 8 round robin, 8 velocity layers and custom scripting to keep each rhythm you create fresh and devoid of monotony.
Timbales features
8 round robin.
8 velocity layers.
48kHz/24-bit quality.
85.5MB (40MB compressed).
Timbales costs $10 AUD.
Xylofun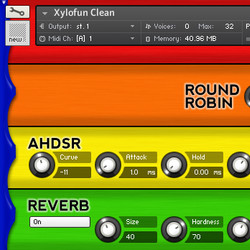 The Xylofun is a children's xylophone we've meticulously sampled. It might be a child's toy, but we can all still have a lot of fun with it!

The Xylofun was our first concept for a sample library. Recording was easy, but the sample-making was not. Turns out that tuning isn't that important in toys for children. Thankfully, we've tuned it properly, sampled with 8 round robin and 8 velocity layers, created some hybrid variants and glued it all together with custom scripting, so now it won't make you cringe when you hit an off-note.
Xylofun features
8 velocity layers for the clean instrument.
8 round robin with optional neighbour borrowing (potential total of 24RR).
2 clean and 4 hybrid instruments.
48kHz/24-bit quality.
740MB(431MB compressed).
Xylofun costs $25 AUD.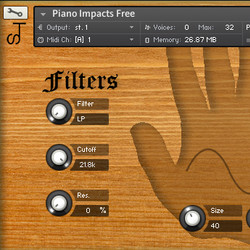 Syntone is also offering a free version of the upcoming Piano Impacts library.
Slapping pianos is nothing new; the likes of George Crumb and Henry Cowell were doing it when most of us weren't even born yet.

We had a piano. We had things to hit it with. Put two and two together and you get this lovely little library.
The free version is available to Syntone Facebook fans. It is limited to 1 velocity layer and does not include the arp available in the full version.
All Syntone virtual instrument libraries require Kontakt 4.2.4+ full version.
More information: Syntone