System 80 has announced the release of JOVE, a Jupiter-6 inspired multimode filter module.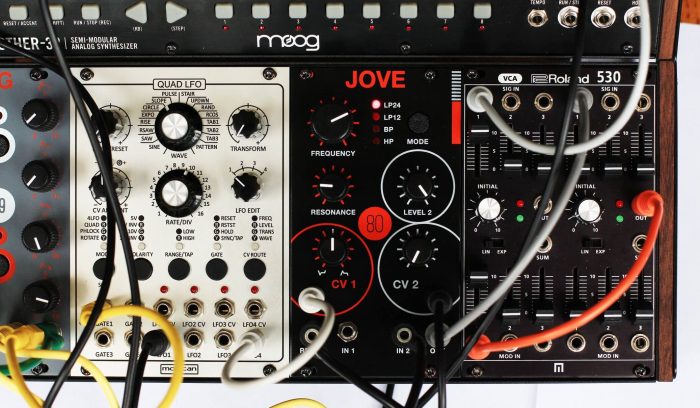 JOVE was born out of our obsession with vintage Roland filters based around the IR3109 Operational Transconductance Amplifier (OTA). We designed an OTA-based filter that doesn't rely on this rare and expensive vintage part.

JOVE is a modern recreation of the Jupiter-6's unique sounding multimode filter, but in addition to the original 24 dB low pass, band pass, and high pass topologies, adds a 12 dB mode reminiscent of the Jupiter-8.
JOVE features
4 modes: 24 dB low pass, 12 dB low pass, band pass and high pass.
2 audio inputs, one log attenuated and one non-attenuated.
2 frequency CV inputs, one unipolar input and one attenuverted input.
1 resonance CV input, non-attenuated.
JOVE is available for $240 USD + shipping.
System 80 has also posted an update on its TR-808 clone for Eurorack.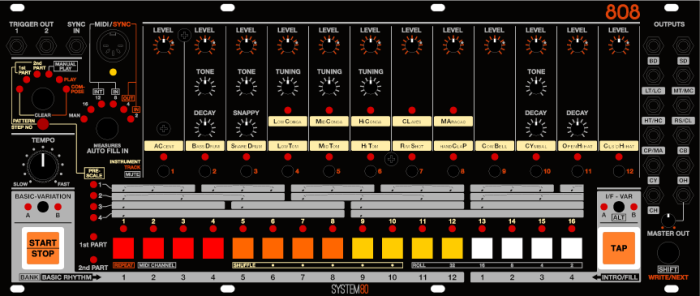 The System 80 808 is a recreation of the TR-808 drum machine reformatted into a 60 HP Eurorack module. It couples the original 16 analogue drum voices of the TR-808 to an enhanced TR-style step sequencer.

The drum circuits are exact clones of the original TR-808 schematics using the same semiconductors wherever possible. All operational amplifiers and bipolar transistors are the same as in the original. Each drum voice was carefully compared to two original TR-808s and small adjustments were made to tune each circuit to match the 35 year-old original reference machines.
System 80 808 features
16 analogue drum voices (6 single voices, 5 switchable dual voices) with global accent.
Pattern sequencer with 1-32 steps.
12 banks of 16 patterns.
16 rhythm tracks.
Shuffle and roll modes.
External MIDI triggering of drum voices.
11 individual drum voice outputs + master output with volume control.
2 assignable trigger outputs.
External sync via MIDI clock, DIN Sync or clock pulse.
The release is schedule for late Summer/early Fall. Pricing TBA.
More information: System 80