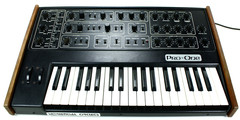 System Effect has released Sequential Pro 1 Bass Sample Set Vol 1, a sample library featuring the sounds of the Pro 1 synthesizer.
System Effect is a newcomer to the Sample Developer world and what an entrance! Developing kits from pure analogue equipment to bring the warmth and character of outboard to your DAW.

All recorded to Lynx Aurora convertors this library of the fearsome Sequential Pro 1 synth is perfect for any genre that is fed up of weedy virtual synths and thin digital sounds….make some room in your mix (you'll need it)
Sequential Pro 1 Bass features
2,870 individual 24bit samples of the legendary Pro 1 Analog Synthesizer.
355MB content (uncompressed).
Nearly all presets have 4 x round Robins on every note for complete authenticity with every key sampled for a huge sonic range of 7 octaves.
On average 340 samples per preset.
24bit samples recorded through a Neve '73 pre-amp going into a UBK Fatso analog compressor (lightly touched) with subtle UBK Fatso tape saturation. No plugins or anything digital touched these recordings.
Sequential Pro 1 Bass Vol. 1 is available to purchase from Sampleism for £5.99 GBP.
More information: Sampleism