Taiga dsp has launched Gravel, a free distortion effect plug-in for Windows.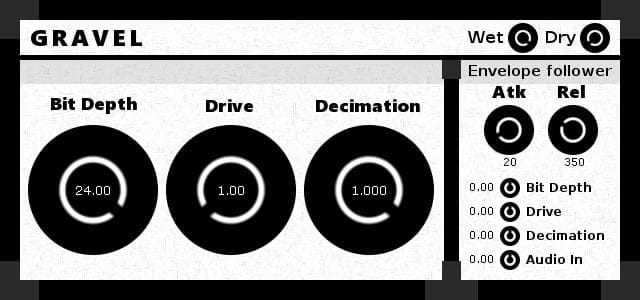 Gravel is a distortion VST with a twist. It combines three types of distortion with an envelope follower that can be used as a modulation source, giving the effects amplitude-driven dynamic characteristics. Perfect for lo-fi effects, powerful percussions and some interesting modulated crankiness.
Gravel features
Smooth, non-integer Bit Depth reduction, from 1 to 24 bit.
Powerful Drive, with hard clipping.
Sample rate reduction.
Envelope follower with attack and release settings, going from 1 to 5000 ms.
All the above effects are positively and negatively modulatable by the envelope follower, plus an additional mod knob for the audio input.
Gravel is available for download for Windows (32/64-bit VST). Donations are appreciated.
More information: Taiga dsp