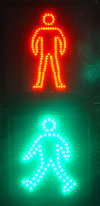 Digitimes reports that Taiwan's Ministry of Economic Affairs (MOEA) has budgeted NT$229 million (US$7.0 million) for the next three years starting in 2008 to change the traffic lights in all counties and cities in Taiwan to LED-based ones, according to the Chinese-language Central News Agency (CNA).
Taiwan's Bureau of Energy, under the MOEA, said Taiwan now has 350,000 traffic lights using LEDs as a lighting source, with the remaining 420,000 traffic lights to also use LED lighting in the next three years for a total savings in power consumption estimated to be 85%, CNA said.
After switching traffic signals to LEDs, MOEA will launch a NT$130 million plan to change street lamps at specific roads or areas to LED-based ones, CNA indicated.
Let's hope other countries will follow this example, because according to HowStuffWorks:
LEDs are brighter. The LED arrays fill the entire "hole" and have equal brightness across the entire surface, making them brighter overall.
LED bulbs last for years, while halogen bulbs last for months. Replacing bulbs costs money for the trucks and people who do the work, and it also ties up traffic. Increasing the replacement interval can save a city big dollars.
LED bulbs save a lot of energy.