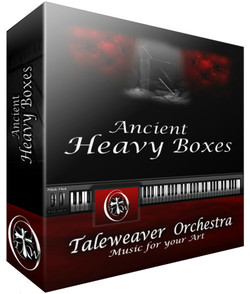 Taleweaver Orchestra has announced Ancient Heavy Boxes, a cinematic percussion library for Native Instruments Kontakt 5.
What is so special about this library? Ten cardboard-boxes have been recorded in different positions and styles. We used sticks, brushes and hammers. We hit, scratched and smashed them. And after recording over 5.000 samples we chose 2.500 to be the best so we can come up with 15 unique patches:

Bass Drum 1 & 2
Brushed Boxes 1 – 6
Paper Djembe
Taikos 1 – 3
Tom Drums 1 – 3

Boxes? Made of paper? Hit with drumsticks?!

Yeah, we know how crazy that sounds. But recorded in the right way they really sound fantastic! We found out that paperboxes have a special unique sound that can give some very interesting edge to a track.
The sample library is available to purchase for the introductory price of 28.80 EUR until February 28th, 2014 (regular 42 EUR).
More information: Taleweaver Orchestra