TASCAM has announced three new digital recorders at the Winter NAMM show.
New TASCAM Portable Digital Recorders
DR-2d Portable Digital Recorder with Dual Recording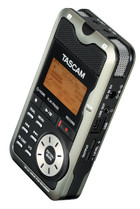 It offers up to 96kHz/24-bit audio resolution, capturing WAV or MP3 files to SD Card media. The new stereo condenser microphone design has a 74dB signal to noise ratio for dynamic recordings. The Dual Recording feature prevents overload by recording a second track at lower level, ensuring that recordings won't be ruined by distortion.
Like the rest of TASCAM's best-selling portable recorders, the DR-2d offers Variable Speed Audition to slow down music without changing the pitch. A metronome and digital effects are also included, as well as an Overdub feature for sound-on-sound recording. The DR-2d is ideal for songwriters, performers, or home studio musicians who want their music to sound its best.
DR-08 Compact Portable Digital Recorder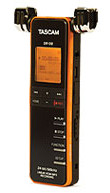 It captures audiophile-quality 96kHz/24-bit WAV files – or web-friendly MP3 files – to robust MicroSD media. The built-in microphones have a unique mechanism to change the width and angle of the elements, allowing you to tailor the pattern for the perfect recording. There's even a built-in kickstand for placing the recorder right where you want it. A pair of AAA batteries allows you to record for hours to the included 2GB card, then transfer the recording to your computer using high-speed USB 2.0.
Like the top-selling DR-07, the DR-08 has features like auto level control and a low cut filter for clear recordings. Add your own microphone or line-level source using the 1/8″ stereo input. The DR-08 has loop and variable speed on playback, allowing you to slow down speed without changing the pitch to learn new music. Noise canceling and EQ functions improve playback timbre, and the sleek design makes the DR-08 TASCAM's most portable recorder yet.
DR-680 8-track Portable Digital Recorder


Up to eight tracks can be recorded to solid-state SD card media at 96kHz/24-bit Broadcast WAV quality. Six mic inputs provide phantom power and 60dB of gain for great-sounding recordings with condenser microphones. Record the six microphones along with a digital S/PDIF source for 8 track recording.
Inputs can be monitored using a built-in mixer with level and pan controls for each input. The stereo mixdown can even be recorded along with the six mics for quick stereo playback of the event. There's even a built-in speaker to check recordings without headphones.
In addition to WAV recording up to 96kHz, the DR-680 captures stereo audio at 192kHz/24-bit for audiophile-quality masters. The DR-680 records up to four channels of MP3 audio for web-ready recordings. Two of the recorders can be connected with a cascade cable for up to 16-track recording on battery power. Multi-channel portable recording has never been as simple or affordable as the DR-680 from TASCAM.
More information: TASCAM