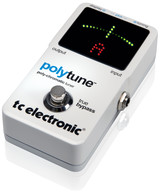 TC Electronic has announced the PolyTune, a polyphonic tuner.
Tuning used to be a necessary evil. The last barrier before you could get truly rocking. But now, tuning is ready to get blasted into the 21st century with PolyTune, the stomp-box sized tuning miracle from TC Electronic!

PolyTune is the world's first polyphonic tuner, and a game-changing total tuning turnaround that will have future guitarists wondering how we ever got by without it.
PolyTune features
Polyphonic Tuner – Tune all strings simultaneously – simply; Strum, Tune, Rock!
Chromatic Tuner – Ultra fast and steady response, Needle and Stream display modes.
Tuning Accuracy: +/- 0.5 cent
Reference Pitch: A4 = 435 to 445Hz (1 Hz steps)
Input Impedance: 500 kOhm (pedal on)
PolyTune is shipping March 2010 for an MSRP of $149 USD.
More information: TC Electronic