TC Electronic has announced LCn Loudness Correct, a new loudness normalization plug-in with stand-alone capability.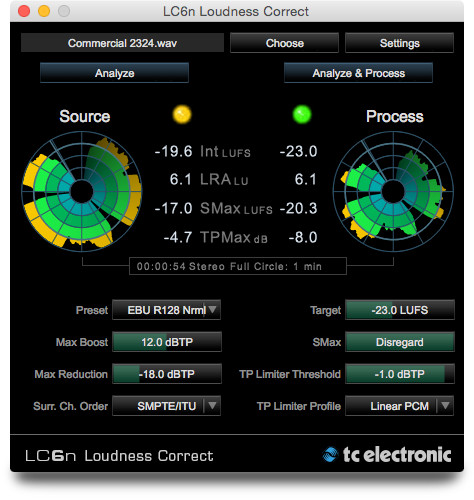 Audio professionals everywhere can now benefit from the addition of LCn Loudness Correct to TC Electronic's arsenal of pristine loudness tools – either as a Pro Tools plug-in or as a complementary stand-alone version with watch folder capability for automatic batch-normalization of multiple audio files. LCn is available for stereo or 5.1 surround – LC2n and LC6n respectively.

These days, hitting the right loudness target is essential whether the delivery platform is HDTV, Mobile TV, podcast, radio, iTunes, Spotify, etc. and LCn makes this as easy as clicking a button or dragging a file to a folder. The plug-in version allows Pro Tools users to apply faster-than-real-time, two-pass, off-line processing from within their host, while the stand-alone version runs on PC and Mac.
LCn Loudness Correct features
Precise loudness normalization for Pro Tools – Integrate consistent loudness in your workflow.
Stand-alone app w/ watch folder capability – Automatically batch-normalize multiple audio files.
Mastering-grade true peak limiter – Integrated legendary brickwall 2 true-peak limiter.
LCn will be available January 2015 through TC Electronic's dealers and distributors as well as in the TC Electronic online store.
More information: TC Electronic