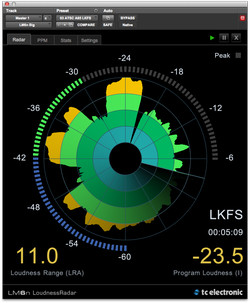 TC Electronic has announced LM1n, LM2n and LM6n, three new loudness meter plug-ins for audio and video editing systems.
The new LM2n and LM6n meters offer a wealth of new features plus the acclaimed and easy to use Radar View. The LM1n plug-in is a brand new addition to a growing range and provides the all-important basics in loudness metering while only creating a small footprint on the screen. The new LM2n and LM6n native plug-ins replace the previous LM2 and LM6 plug-ins.

All of these new loudness meters support the major plug-in formats, including AAX (Pro Tools 10 and 11), VST (Nuendo, Cubase, Audition, Premiere, etc.) and Audio Units (Final Cut Pro, Logic Pro, etc.) and even offers faster than real time off-line measuring in Pro Tools.

As would be expected from TC Electronic, being heavily involved in research studies on loudness as well as the definition of international loudness standards, LM1n, LM2n and LM6n comply with all major broadcast standards, including BS.1770, A/85, R128, TR-B32 and OP-59, and will remain compliant via updates whenever new revisions of these standards are released.
The plug-ins will be available late April, 2014.
LM1n will cost $79 USD, LM2n is $149 USD, and LM6n is $449 USD. Introductory prices will be available for LM1n ($49 USD) and LM2n ($99 USD) until May 31st, 2014. Various upgrades from earlier TC Electronic loudness meter plug-ins will also be available.
More information: TC Electronic