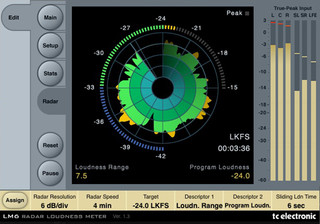 TC Electronic has released version 1.4 of its versatile and highly acclaimed LM2 (stereo) and LM6 (multichannel) Loudness Radar Meter plugins.
With the new release, TC Electronic adds compliance with the recent 2013 revision of the ATSC A/85 broadcast standard that are mandatory for US broadcasters to adhere to.

"The new revision of the ATSC A/85 standard integrates the latest revision of the international ITU BS.1770-3 standard, which is of great importance in the efforts to make audio loudness more transparent even across national borders," says Thomas Lund, CTO for Broadcast & Production at TC Electronic. "So it was a high priority for us to make our loudness meters compliant with this new development as we constantly work towards making audio experiences better no matter where you happen to be located."

Apart from the ATSC A/85 2013 compliance, v. 1.4 also adds improved support for Pro Tools 11. "Measuring loudness becomes increasingly important, and every day more and more producers realize that they will benefit greatly from measuring the audio loudness of their projects," says Thomas Valter, VP of Business Management at TC Electronic. "Therefore, it is important for us to always keep up with the latest DAW developments, making sure that we support first-movers, who port quickly to the latest incarnations of Pro Tools, Logic, Nuendo, Media Composer, etc."
The free updates for LM2 and LM6 are now available to download.
More information: TC Electronic