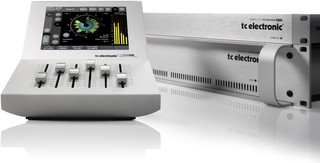 TC Electronic has announced it will exhibit its state-of-the-art, BS.1770-3 compliant processing and metering solutions for System 6000 MKII at AES 2012 in San Francisco (Booth 1019).
TC Electronic will again be exhibiting at the annual AES convention in the US, displaying the latest solutions for measuring and correcting loudness in post, production, mastering and broadcast.

For the first time, AES visitors will be able to experience 'Live Aid' processing for System 6000 MKII. The Live Aid license includes the ALC6 algorithm that introduces no less than five innovative, industry-first features. Without sacrificing audio quality, even OB and Live production may now comply with the latest international standards on loudness and true-peak level. Live Aid also contains the DMix algorithm that is able to downmix, loudness process, headphone optimize and true-peak limit any mono, stereo or 5.1 source. Precise conditioning of a program for Mobile TV, iPod or IPTV is now possible, thus creating a perfect 5.1 audio and a Mobile feed directly off the OB truck.

In conjunction with TC's highly acclaimed Radar Loudness Meter, 'Live Aid' forms the ultimate package for any production, post or mastering facility delivering content for film or broadcast. In short, the Radar Loudness Display provides the user with coherent information of all relevant loudness data, including history, in a single, recognizable view. The Radar Meter is available on several different platforms such as System 6000 MKII, DB4 MKII/DB8 MKII and LM2, as well as in the form of native plug-ins supporting AAX, RTAS, Audio Suite, AU and VST formats.

All of TC's loudness solutions reflect the latest standards, even the recently updated ITU-R BS.1770-3. Loudness-related products have already been updated to comply with this brand new incarnation of the BS.1770 loudness standard, including System 6000 MKII, DB4, DB8, DB4 MKII, DB8 MKII, DB2, LM2 and the plug-ins LM6 and LM2. AES visitors are invited to come by the TC booth to experience these newly updated products on site.
More information: TC Electronic